Celebration With A White Dove Release!
We are devoted to our birds and dedicated to presenting professional white dove releases. We look forward to working with you to help present an event of a lifetime!
Whatever Your Special Event, Imagine How Memorable It Will Be With Our White Doves!
Graduations: Celebrate in style, release white doves at the opening or closing ceremonies.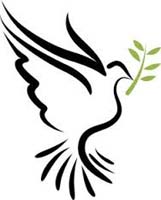 Birthdays and Quinceañeras: Say goodbye to boring parties! A white dove release will be a most memorable event. A release can be scheduled for the beginning of your party, the end... or anytime between.
Christenings: Display beautifully decorated cages at the church entrance to be admired by your guests, and then follow the ceremony with the release of the two white birds.
Engagements and Proposals: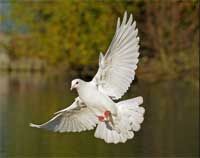 What better way to celebrate than to release beautiful white doves? Doves pair for life and are symbolic of love and fidelity.
Anniversaries: There is no better way to show how much you care! Surprise your loved one with a beautiful white dove release... How many doves would you like?
Homecomings: We will release pure white birds to celebrate with your loved one's return.

Shut-Ins and Hospice: Being able to hold a white dove is an extremely calming and cherished experience. For more information, please visit Hospice and Doves.
Religious Events: We will attend with our birds to open or close any religious event making it a truly memorable experience.
The Possibilites Are Nearly Endless!
Call now to reserve your White Bird Release: 801.636.1072.